Disaster Recovery is the restoration of computing and telecommunications services after an event has disrupted those services.Like many other organizations, your company may have subscribed to a disaster service as a precautionary measure.
Availability of a backup AS/400 is crucial to the successful implementation of your disaster recovery plan. However, many organizations only subscribed to a shared AS/400 on a First Come First Serve Basis. This industry standard is to share AS/400 among 12-40 subscribers, with so many sharing, your organization's interest is compromised and put at risk.
If you realize that these time-shared disaster recovery plan is not good enough, and that a disaster is a real and present danger to your organization, we have the perfect solution for you.
We, at Computer Brokers & Services Pte Ltd, offer a host of exceptional disaster recovery services at prices lower than what you may be current paying for with other providers. Overview of the CBSL Disaster Recovery Services: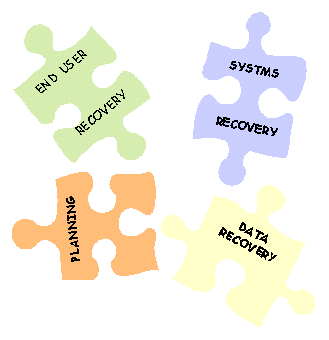 Dedicated Backup AS/400 Solutions
Our disaster recovery plan provides you with a dedicated backup AS/400 that is of equivalent or higher capacity as your primary machine. With our subscription plan, you enjoy the following benefits:

Exclusive Usage

You are guaranteed the availability if your backup machine anytime, all the time. There is no sharing of resources, queuing for testing, or any other restriction that may leave your organization without an AS/400 at times of needs.

Unlimited and Free Access

Your dedicated backup AS/400 is free for your use 24x7. You can have your testing any time you want. In the event of a disaster, you can use your backup AS/400 as long as you need to with no additional charges.

Flexibility

You can choose to have the backup AS/400 stored at our site, your own secondary site, or even at your primary site if you just need a replacement machine for any reason.
Reduced Recovery Time
You can preload your organization's system onto you backup AS/400 which can cut down your recovery time by hours or days. Shared AS/400 plans do not allow you to do this. Imagine restoring your entire system onto a new machine during the stress of a disaster. Precious time is wasted, plus the risks of loading failure in spite of prior testing.
HOW MUCH DATA CAN YOU AFFORD TO LOOSE?
Wouldn't it be nice if you can recover your business operations up to the point when the disaster struck? No sales record is lost. Even the last transaction before the disaster is intact. Your business operation scan truly resume at the DR site.
And imagine having such assurance - the equivalence of a mirrored site- without the hefty investment of an extra machine, duplicated OS license, an extra site to host the backup machine, and an exorbitantly large data communication bandwidth to transfer the data in real time. Using the latest technology in AS/400 data replication, we are able to provide advanced data mirroring services at very low cost. We can provide remote or local data mirroring for complete safeguard of your mission critical data. The backup can be done on a share machine, or on a dedicated backup machine. You will have complete peace of mind knowing that your AS/400 operation can switch over to the backup machine immediately when disaster strikes.
DATA MIRRORING AT AN AFFORDABLE PRICE
The concept of Data Mirroring
Using the state-of-the-art data replication technology for the AS/400 and iSeries, our Data Replication Service adds great value to your disaster recovery plan with minimal additional cost. With your subscription to our Data Replication Service, we provide you the equivalent of a mirrored site with:
Real time data replication for your AS/400 or iSeries

No need to purchase an extra machine as backup server

No need to pay for additional OS/400 licenses

No need to purchase expensive data replication software

No need to subscribe to ultra high-speed links such as T1 or T3 leased lines.

Total data security via VPN connections

Speedy recovery of business activities during a disaster
Call us now for a no-obligation free trial of our Data Replication Service!